23rd September 2011
Employee Unfairly Dismissed For Having Second Job Whilst On Sick Leave
In the recent case of Perry v Imperial College Healthcare the Employment Appeal Tribunal (EAT) considered the position of an employee with two jobs who was dismissed for taking sick leave from one job while working in the other job.
The facts of the case were that the claimant, Ms Perry, worked part-time for two different employers, Imperial College Healthcare NHS Trust (Imperial) and Ealing Primary Care Trust (Ealing). Her job for Imperial was as a community midwife, and involved cycling to patients' homes and sometimes climbing stairs in high-rise buildings. Due to a knee condition, she was signed off work and received sick pay including statutory sick pay. However, she carried on with her Ealing job, which was desk-based and therefore not affected by her knee condition. This job was carried out on Monday evenings, and not during the hours she would otherwise have been working for Imperial.
On discovering that Ms Perry was still working for Ealing while signed off sick, Imperial carried out a disciplinary procedure and dismissed her. The reason was that she had intentionally defrauded Imperial of "a large sum of money", by claiming sick pay whilst undertaking paid work. It refused to consider a letter from Ms Perry's GP confirming that, while she was unfit for her Imperial duties, she was still fit for her Ealing job which was completely separate in nature and did not put any stress on her knee.
During the claimant's appeal against her dismissal, the Trust sought to rely on a clause in Ms Perry's contract of employment preventing her from working elsewhere during sick leave without the permission of her manager. It stated that, had she mentioned earlier that she was fit for desk-based work, it could have redeployed her instead of putting her on sick leave. Ms Perry argued that she thought the clause only applied to someone taking on a new job during sick leave, not to someone who already had a second job. However, Imperial took the view not only that it did apply, but also that Ms Perry had acted in bad faith in failing to ask permission, and had deliberately sought to deceive. Ultimately, upon appeal the Trust confirmed Ms Perry's dismissal.
Ms Perry submitted a claim for unfair dismissal to an Employment Tribunal, however the claim was dismissed and, therefore, she subsequently lodged an appeal with the Employment Appeal Tribunal (EAT).
Upon appeal, the EAT held that Imperial's original decision to dismiss for fraud had been legally and factually incorrect. To this end, the EAT found that it was not the case that Ms Perry was being paid twice for the same hours as there was no overlap in the hours she was working for Ealing and the hours for which she was receiving sick pay from Imperial.
However, despite Ms Perry's honest belief that the contractual obligation to seek permission for other work during sick leave did not apply to her, the EAT held that it "clearly and obviously" did, and that Imperial had good reason at the time to doubt Ms Perry's good faith.  The EAT held that the requirement to obtain permission was not designed to provide Imperial with information about redeployment options, but was aimed at ensuring that the secondary job (a) is consistent with the employee being unfit for their duties with Imperial, and (b) would not delay their eventual return to work at Imperial. In the light of the letter from Ms Perry's GP, the EAT held that there had been no reason for Imperial to be concerned about either of these issues. As such, it was the view of the EAT that Imperial were simply trying to salvage, after the event, what "had plainly been an initially misconceived decision to dismiss".
The EAT also noted that the tribunal had failed to properly consider whether dismissal was within the range of reasonable sanctions for the conduct of Ms Perry. In the EAT's view, it was clearly not, and the dismissal was therefore unfair.
Finally, although it found that Ms Perry had acted in good faith, the EAT recognised that her dismissal was partially attributable to her failure to seek permission to carry on her Ealing job, as required by her contract. It therefore held that her compensation be reduced by 30% for contributory fault.
Contact –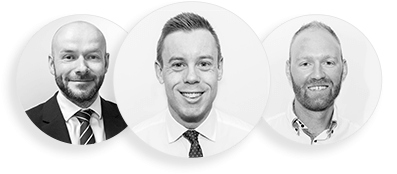 Get in touch
Friendly, professional & personal health & safety consultants