13th March 2020
Government's Proposed Next Steps
The Delay phase – next steps
If the disease becomes established in the UK, we will need to consider further measures to reduce the rate and extent of its spread. Based on experience with previous outbreaks, it may be that widespread exposure in the UK is inevitable; but slowing it down would still nonetheless be beneficial.
For example, health services are less busy in the summer months when flu and other winter bugs are not driving GP consultations and hospital admissions. In the 2009 'swine flu' pandemic school holidays significantly slowed transmission of the virus.
We will increase publicity about the need for good hygiene measures (handwashing, and catch it, bin it, kill it) and further promote the need for people with symptoms to stay at home for the full duration of their illness.
Action that would be considered could include population distancing strategies (such as school closures, encouraging greater home working, reducing the number of large-scale gatherings) to slow the spread of the disease throughout the population while ensuring the country's ability to continue to run as normally as possible. The UK governments' education departments' planning assumptions include the possibility of having to close educational settings in order to reduce the spread of infection.
We would consider such measures in order to protect vulnerable individuals with underlying illnesses and thus at greater more at risk of becoming seriously affected by the disease. The effectiveness of these actions will need to be balanced against their impact on society.
The Research phase – next steps
It is possible that an outbreak or pandemic of COVID-19 could occur in multiple waves (it is not known yet if the disease will have a seasonal pattern, like flu) and therefore, depending upon what the emerging evidence starts to tell us, it may be necessary to ensure readiness for a future wave of activity.
The intention is to gather evidence about effective interventions in order to inform decision-making going forward. The UK government will keep emerging research needs under close review and progress research activities set out above.
The Mitigate phase – next steps
As and when the disease moves into different phases, for example, if transmission of the virus becomes established in the UK population, the nature and scale of the response will change. The chief focus will be to provide essential services, helping those most at risk to access the right treatment. This means that:
There will be further publicity of advice to individuals about protecting themselves and others;
Treatment and the requirement for medicines and other clinical countermeasures might start to increase, with the need to draw down on existing stockpiles of the most important medicines, medical devices and clinical consumables;
Health and social care services will work together to support early discharge from hospital, and to look after people in their own homes;
Emergency services, including the police and fire and rescue services, will enact business continuity plans to ensure they are able to maintain a level of service that fulfils their critical functions. For example, with a significant loss of officers and staff, the police would concentrate on responding to serious crimes and maintaining public order;
For businesses facing short-term cash flow issues (for example, as the result of subdued demand), an effective mitigation already exists in HMRC's Time To Pay system. This is offered on a case-by-case basis if a firm or individual contacts HMRC about falling behind on their tax;
Ss NHS/HSCNI staff also start to become affected, and more seriously ill patients require admission, clinicians may recommend a significantly different approach to admissions. Some non-urgent care may be delayed to prioritise and triage service delivery. Staff rostering changes may be necessary, including calling leavers and retirees back to duty;
There will be less emphasis on large-scale preventative measures such as intensive contact tracing. As the disease becomes established, these measures may lose their effectiveness and resources would be more effectively used elsewhere
Everyone will face increased pressures at work, as well as potentially their own personal illness or caring responsibilities. Supporting staff welfare will be critical to supporting an extended response.
We will implement a distribution strategy for the UK's stockpiles of key medicines and equipment (for example, protective clothing). This will cover the NHS/HSCNI, and extend to social care and other sectors as appropriate. We will consider legislative options, if necessary, to help systems and services work more effectively in tackling the outbreak.
The UK's health and social care systems will start to implement their business continuity plans, which cover:
Continuing to minimise the risk of infection to patients and those receiving care;
Further identification of vulnerable persons to be supported;
Arrangements for the continuation of essential services, to maintain normal business for as many people as possible for as long as possible;
Plans to reduce the impact of absentees during the pandemic;
Systems to lessen the impact of disruption to society and the supply chain.
Business Support
In addition to the above, a new Coronavirus Business Interruption Loan Scheme, delivered by the British Business Bank, will enable businesses with a turnover of no more than £41 million to apply for a loan of up to £1.2 million, with the government covering up to 80% of any losses with no fees. This will unlock up to £1 billion pounds to protect and support small businesses.
For businesses with fewer than 250 employees, the cost of providing 14 days of statutory sick pay per employee will be refunded by the government in full. This will provide 2 million businesses with up to £2 billion to cover the costs of large-scale sick leave.
A dedicated helpline has been set up to help businesses and self-employed individuals in financial distress and with outstanding tax liabilities receive support with their tax affairs. Through this, businesses may be able to agree a bespoke Time to Pay arrangement. If you are concerned about being able to pay your tax due to COVID-19, call HMRC's dedicated helpline on 0800 0159 559.
There will be a £3,000 cash grant to 700,000 of our smallest businesses, delivered by Local Authorities, and worth a total of £2 billion.
Finally, the government is temporarily increasing the business rates retail discount in England to 100% for 2020-21 for properties below £51,000 rateable value. Nearly half of all business properties will not pay a penny of business rates.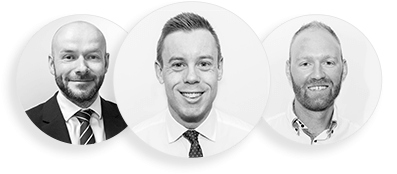 Get in touch
Friendly, professional & personal health & safety consultants