11th December 2020
Getting Ready For The Winter Weather
It's that time of year again! Where we compile a blog about the onset of winter and the weather it brings. 
In-between concentrating on the festive celebrations and the inevitable New Years resolutions, the winter period can be a troublesome time for employers and duty holders. The change in weather can result in slip, trip and fall hazards presenting themselves in new places that aren't a concern during the warmer months. 
A combination of less daylight, foliage, wet conditions, and cold weather result in additional work being required to keep environments safe for employees and the general public. 
Lighting
It is important to consider whether the lighting surrounding your premises is adequate to allow ground hazards to be spotted before accidents occur. If there are blindspots you will need to think about provision of additional illumination. 
Foliage
Wet leaves present a significant slip hazard. Therefore, it is a good idea to monitor walkways lined with trees and bushes regularly to ensure they stay clear for pedestrians. 
Wet Weather
Unfortunately, we do get our fair share of wet weather in the UK. Thankfully, this has led to the development of several practical solutions to reduce the threat of excess rainwater within our building and civil infrastructures. 
Extra precautions should be prioritised over the winter months. Therefore, pedestrians should be discouraged from using non-designated walkways and 'shortcuts' over landscaped areas. 
Slip resistant materials should be considered for areas that may be particularly dangerous such as paved walkways, decking and steps. 
Many slip incidents occur at the entrance to buildings when people are rushing to get in from the rain; perhaps folding an umbrella away or taking down their hood. It may be worthwhile considering installing canopies over building entrances to combat this. Alternatively, absorbent matting can be used to minimise standing water. 
Ice, Frost and Snow
In addition to wet weather, consideration should be paid to reducing the slip risks associated with ice, frost and snow. 
It is important to deliver forewarning to anyone who may be using your premises of the prospect of these conditions. Signage is a good way of doing this, with a system in place to put this out whenever freezing temperatures are forecast. 
Procedures should be implemented to prevent ice forming on pedestrian walkways. Consequently, controls such as gritting or walkway coverings could be considered. 
Gritting
Gritting is the most common way of de-icing floors with rock salt being a popular substance used as 'grit'. 
Salt can be used for prevention of ice forming, and to melt surface ice. However, this can take a significant amount of time. 
The best way to grit is to cover floor surfaces before any frost settles. This should ideally take place the night before freezing temperatures are forecast.  
Alternatively, gritting could take place early in the morning before employees arrive. However, you will need to consider the amount of time needed for the grit to alleviate the frost or ice, before it is safe to walk on the surface. 
Be aware that gritting when rain is falling could cause the grit to be washed away creating further complications, if the rain turns to sleet or snow. Compacted snow can be tough to treat with grit. Therefore, other means of removal may be required (snow ploughs or manual shovelling). 
Any manual duties undertaken should be risk assessed appropriately.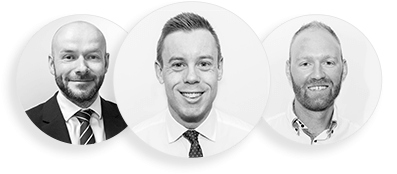 Get in touch
Friendly, professional & personal health & safety consultants