11th January 2021
Get To Know Our Senior Safety Consultant
If you've ever wanted to know about the Lighthouse team, now's your chance. Each week we will be shining a spotlight on someone from the team and hitting them with some quick-fire questions. Next up is our most Senior Health & Safety Consultant, Mr. Matthew William Blackburn Esq.
How long have you been working for Lighthouse?
10 years in March … I am expecting a nice carriage clock.
What is your favourite thing about Lighthouse?
We genuinely do have a fantastic team of very knowledgeable individuals and, as well as being work colleagues; we are all good friends. Working for Lighthouse has given me the chance to branch out solely from the construction sector into other far more interesting fields and improve my own skillset and experience.
What is your favourite film?
I don't really have a long enough attention span to watch a film. If I did have to sit down for 2-hours though, it would have to be the Inbetweeners or Sponge Bob.
What is your favourite TV show?
You can't beat a bit of Emmerdale! Apart from that, my tv control generally drifts from channel 401-409 when the good lady wife allows it.
What is your favourite food?
I like to lead a very healthy lifestyle and working away quite a bit helps me embrace that. So, it's generally Fish & Chips Monday – Thursday and curry (Lamb Karahi) Friday – Sunday.
If you won the lottery, what would you do with the money?
First flight out of the country to Bali for 2-weeks and, on my return I would throw what is left of my winnings trying to get Halifax Town into the premier league.
Tell us a fun fact about yourself?
I'm a double veteran world cup winning captain for AFC Halifax, I've appeared on the generation game and soccer AM, and I am a professional celebrity botherer. In the past 12-months, my victims include Trevor McDonald, Philip Schofield, Paul Gascoigne, Sam Dingle, Tim Burgess (the charlatans), Fiona Bruce, Joe Hart and, I also had a heated dispute with Michael Parkinson on why Halifax was better than Barnsley. If that's not enough for you, my family tree has been traced back to the McGregor clan; and my late great-grandad is the one and only Rob Roy.
How would you rate your brew making skills out of ten?
What a silly question I'm from Yorkshire so obviously it's a 10. I would never ever trust anyone else to make a brew for me as nobody could possibly reach my incredible standards.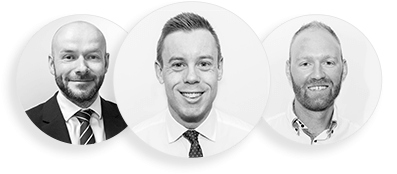 Get in touch
Friendly, professional & personal health & safety consultants