8th February 2021
Get To Know Our Managing Partner 
If you've ever wanted to know about the Lighthouse team now's your chance. Each week we will be shining a spotlight on someone from the team and hitting them with some quick-fire questions. Next up is Chris Hall our Managing Partner.
How long have you been working for Lighthouse?
We started Lighthouse back in September 2008, so that will make it 12 years and 4 months – God… that makes me feel old now!
What is your favourite thing about Lighthouse?
Matt Blackburn of course lol…..Only joking. I'm really proud of the great client base we have grown over the years, which is testament to the excellent team we have at Lighthouse. Assisting clients with their H&S and Employment issues is clearly central to what we are here to do, and it's down to providing a high level of service that keeps our business growing year on year.
I'm really looking forward to the office move to our new dedicated training venue in the next month or so, given the year of delays we have suffered from Covid-19.
What is your favourite film?
I love loads of films and it depends on my mood. But, if pressed, I'd say it's a coin flip between either the 1st Matrix or Braveheart.
What is your favourite TV show?
I don't actually watch any soaps. I tend to watch a full series on Netflix/Prime generally and I really like real life documentaries as well.
What is your favourite food?
Ooh, tough one… as I will literally eat anything! I'd have to say Italian, with Indian being a close second.
If you won the lottery, what would you do with the money?
Well, after helping out all my friends and family and paying off my mortgage, I think I would travel…a lot. There are so many places and different countries I want to see that I would probably just end up doing an around world trip like Michael Palin! I think travel really broadens your mind.
Tell us a fun fact about yourself?
Contrary to my day job as a health and safety advisor, I'm actually a bit of a speed freak, and my main hobby is motorbikes! I've lost count of how many track days I've done, and I've been to the Isle of Man TT loads of times too. I once actually rode to Germany just to have a blast around the Nürburgring!
My claim to fame is that I once did a track day with Keith Flint from the Prodigy, although unfortunately, my other celebrity story isn't quite as good – I bumped into Darius in a Hotel Gym once….
How would you rate your brew making skills out of ten?
I've got that snobby with coffee over the years that I don't even drink instant anymore, I'd rate my skills as an easy 10 because everyone gets a cafetiere when I make a drink in the office!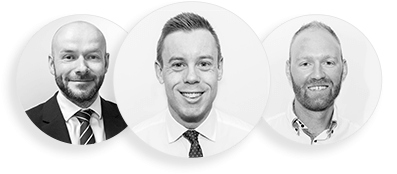 Get in touch
Friendly, professional & personal health & safety consultants